Services
Phenotyping:
Typing:
Phylogeny:
CSI Phylogeny calls SNPs, filters the SNPs, does site validation and infers a phylogeny based on the concatenated alignment of the high quality* SNPs.


CSIPhylogeny



NDtree constructs phylogenetic trees from Single-End or Pair-End FASTQ files.


NDtree



SNPs phylogenetic tree from assembled genomes or sets of reads.


snpTree



Assembly:
Other:
MyDbFinder performs typing or pheno typing based on a user defined database


MyDbFinder



MyKmerFinder performs typing or pheno typing using Kmers based on a user defined database


MyKmerFinder



The DeHumanizer web-server is a tool for human filtering based on the method described by

Zhang et al.




DeHumanizer



Organization
Project
Publications
Contact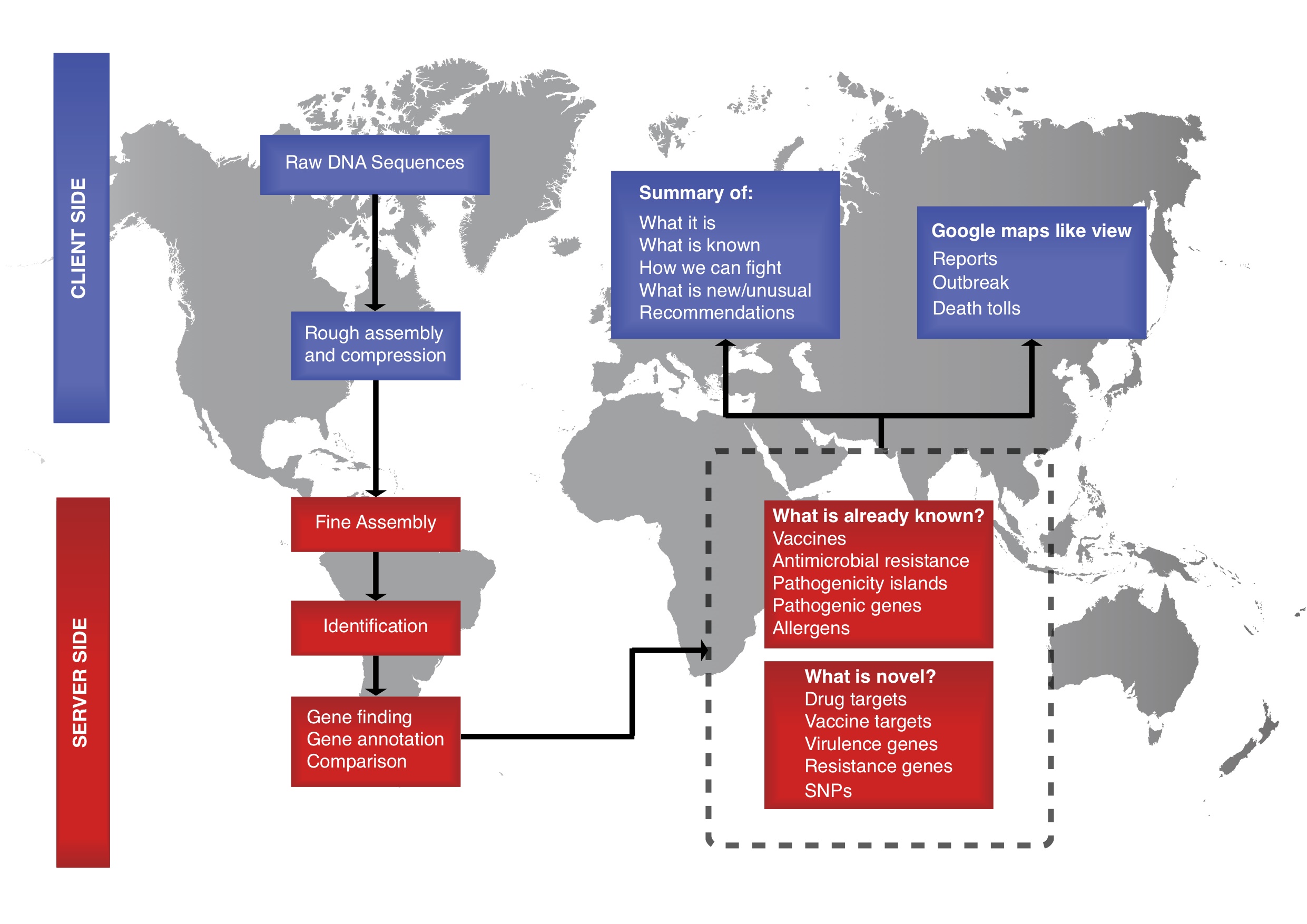 Welcome to the Center for Genomic Epidemiology
The cost of sequencing a bacterial genome is $50 and is expected to decrease further in the near future and the equipment needed cost less than $150 000. Thus, within a few years all clinical microbiological laboratories will have a sequencer in use on a daily basis. The price of genome sequencing is already so low that whole genome sequencing will also find worldwide application in human and veterinary practices as well as many other places where bacteria are handled. In Denmark alone this equals more than 1 million isolates annually in 15-20 laboratories and globally up to 1-2 billion isolates per year. The limiting factor will therefore in the future not be the cost of the sequencing, but how to assemble, process and handle the large amount of data in a standardized way that will make the information useful, especially for diagnostic and surveillance.

The aim of this center is to provide the scientific foundation for future internet-based solutions where a central database will enable simplification of total genome sequence information and comparison to all other sequenced including spatial-temporal analysis. We will develop algorithms for rapid analyses of whole genome DNA-sequences, tools for analyses and extraction of information from the sequence data and internet/web-interfaces for using the tools in the global scientific and medical community. The activity is being expanded to also include other microorganisms, such as vira and parasites as well as metagenomic samples.

News

Center for Genomic Epidemiology spinout
June 2016
A spinout company has recently been founded on the basis of Center for Genomic Epidemiology. Read more....

What Can We Learn from a Metagenomic Analysis of a Georgian Bacteriophage Cocktail?
December 2015
Link to article....

WGS typing is a superior alternative to conventional typing strategies
August 2015
In combination with other available WGS typing tools, E. coli serotyping can be performed solely from WGS data, providing faster and cheaper typing than current routine procedures. Link to article....

Introduction to microbial whole genome sequencing and analysis for clinical microbiologist
April 2015
We offer clinical microbiologists the possibility to learn how to use the tools for e.g. typing, identifying plasmids, antibiotic resistance and virulence genes and for phylogenetic analysis. Sign up....

Consortium to combat infectious disease outbreaks
January 2015
The COMPARE project has been funded with 20 million Euros from the EU. The Consortium consists of 29 partners with multidisciplinary expertise in human health, animal health and food safety. Read more....

Benchmarking of Methods for Genomic Taxonomy
April 2014
How to optimally determine taxonomy from whole genome sequences. Link to article...


CGE tools applied for bacteriophage characterization
March 2014
Applying the ResFinder and VirulenceFinder web-services for easy identification of acquired antibiotic resistance and E. coli virulence genes in bacteriophage and prophage nucleotide sequences. Link to article...


Evaluation of Whole Genome Sequencing for Outbreak Detection of Salmonella enterica
March 2014
We evaluated WGS for outbreak detection of Salmonella enterica including different approaches for analyzing and comparing with a traditional typing, PFGE. Link to article...


Global Microbial Identifier
December 2012
The initiative 'Global Microbial Identifier' focuses on the use of genome sequencing techniques in a global system for microbiological identification and epidemiological surveillance. Visit the homepage for further information